Thomas Tuchel To Adopt on New Tactics, Considering the Next 4 EPL Fixtures for Chelsea, Man City and Liverpool.
Manchester City's lead over Chelsea has grown to ten points after the current round of Premier League games.
Despite falling a goal down at the Emirates Stadium, the defending English champions began the weekend with a stunning 2-1 win against Arsenal.
After a breathless opening 45 minutes, neither side scored in the second half, ending in a point shared at Stamford Bridge.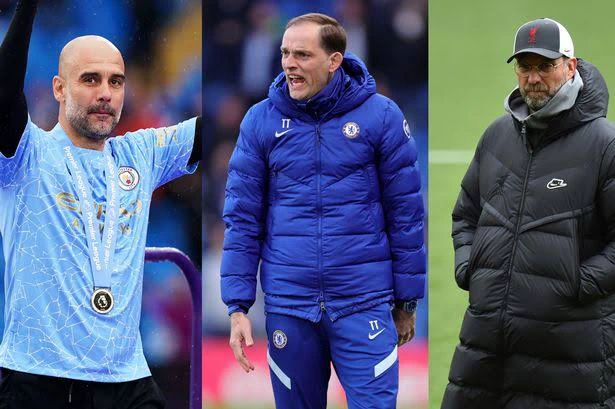 With that in mind, let's compare Chelsea's next four Premier League games compared to Liverpool and Manchester City.
Manchester City vs Chelsea
When Thomas Tuchel and his team return to the Premier League, it will be another critical encounter that they must win if they are to have any hope of catching the table-toppers.
On the other side, the Etihad Stadium is famous for being one of the most difficult places to visit and replacements, but Chelsea will be boosted by last season's performance there.
Despite going down against Manchester City in the first half, the Blues rallied to take all three points thanks to a late Marcos Alonso goal.
Spurs vs Chelsea
Chelsea will return to Stamford Bridge a week after their Premier League trip to Manchester to play archrivals Tottenham.
Spurs' fortunes have improved dramatically under new manager Antonio Conte, and they now seem to be a completely different squad – with the Italian coach impressing once again in the Premier League this season.
Chelsea supporters will be eager to defeat Tottenham, and the fact that the match follows earlier encounters with Liverpool and Manchester City may add an added element of significance.
Crystal Palace vs Chelsea
Since late 2017, the Blues have been unbeaten in all competitions against the Eagles, and they will be confident in their potential to continue that streak on February 19.
Tuchel, on the other hand, may have his eyes set on the UEFA Champions League, with Lille visiting only three days after their Premier League clash with Crystal Palace.
Leicester City vs. Chelsea
Chelsea will visit Leicester City only a few days following their European showdown.
Leicester City has been a bit of a muddled bag from the start of the season, and they are presently positioned in the league's centre.
Leicester City last won at Stamford Bridge in the Premier League in December 2018, when Jamie Vardy scored a second-half goal.
Liverpool's next four fixtures
Brentford (H) – January 16
Crystal Palace (A) – January 23
Leicester City (H) – February 10
Burnley (A) – February 13
Manchester City's next four fixtures
Chelsea (H) – January 15
Southampton (A) – January 22
Brentford (H) – February 9
Norwich City (A) – February 12