Chelsea cs Man United: How Michael Owen Prediction is Becoming Interesting to Fans.
Two Premier League giants Chelsea and Manchester United will be battling it out this Sunday with a place in the top 4 at stake. As usual Michael Owen has previewed that game and the one involving Leicester City and Arsenal, giving fans his predictions for both games.
Leicester City vs Arsenal
Arsenal progressed to the next round of the Europa League while Leicester City was knocked out after a poor performance on Thursday. However, Michael Owen thinks the game this weekend will suit Leicester City who like playing quick counter attacks because Arsenal will likely have more of the ball.
Predicting Leicester to win 2-1 at home, Owen said: "It will be interesting to see how this one plays out. Arsenal will most likely have the majority of the ball, and I think that could play into Leicester's hands.
"As I've previously mentioned, Messrs Barnes, Maddison and Vardy are all playing fantastically just now, and if they're on song again, I think Leicester will win an entertaining contest."
Chelsea vs Manchester United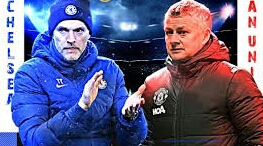 Chelsea Manager Thomas Tuchel and Man United's Ole Gunnar Solskjaer
A lot has changed since the last time both teams met this season. Chelsea's new manager, Thomas Tuchel, will be in charge of the Blues for the first time in this fixture and he's unbeaten since he took charge over a month ago. Manchester United on the other hand topped the league in January after arresting the inconsistent form that plagued them at the beginning of the season.
Much of that improvement is down to Bruno Fernandes who has done well again this season. Fernandes is currently second on the Premier League top scorers table having scored 15 goals so far in the league. He is also on double figures when it comes to providing goals as he has 10 assists in the league, so Chelsea will have to stop him if they are to get anything out of this game.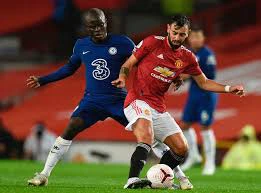 Chelsea's N'Golo Kante marking Bruno Fernandes
The good news for Chelsea as far as Michael Owen's prediction for this game is concerned is that he does not see Bruno Fernandes scoring. In fact he does not see either of the clubs scoring as he believes that Chelsea's defensive pattern since Tuchel took charge won't suit United's counter attacking style.
Predicting the game to end in a 0-0 draw, Owen said: "If this were a few months ago, I'd have fancied United to take advantage of Chelsea's attacking style on the counter.
"However, since Thomas Tuchel has arrived, all that has changed. Chelsea have a solidness about them and are a real throwback to what we saw when Jose Mourinho arrived there all those years ago.
"With that in mind, I expect Chelsea to give up some territory, which won't suit United at all. I'm predicting a real tactical battle, and in the end, I think we may end up with a stalemate."