Chelsea Coach, Frank Lampard Leads in the Released nominees For EPL Managers of the Month Award
Chelsea Manager, Frank Lampard has been nominated alongside Jose Morinho and two others in the list of EPL Managers of the Month Award for November, 2020.
Some clubs have witnessed positive changes and improved performances this season in the Premier League due to some tactical skills and good management prowess of their respective club managers. Some of these clubs includes Tottenham Hotspur and Chelsea.
Both clubs have been performing outstandingly in the league compared to their previous campaigns in the league last season.
Though Chelsea was able to progress and finished 4th on the league table last season, they have witnessed progressive performances this season and also remains the topmost clubs with the highest number of goals so far this season.
This is sometimes being attributed to their currently strong attacking force brought about by new players signed in the last transfer window but, the good management skills of the club manager, Frank Lampard can also not be overlooked.
Another manager in the league that have been performing wonderfully is the Spurs head coach, Jose Mourinho, the Portuguese international has helped strenghtened the London Club defence line making them one of the contenders for the Premier League titles this season.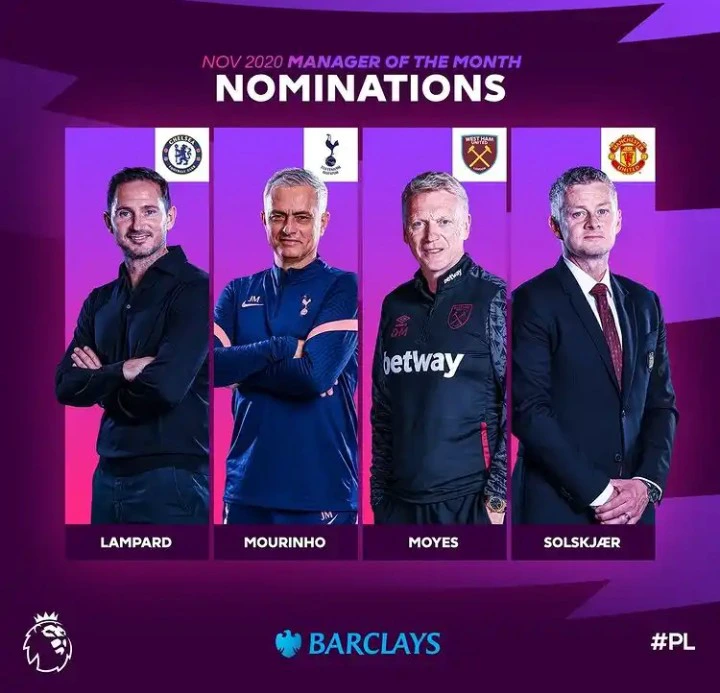 However, based on the rate brilliant performances of some managers in the league this season, the league management has released list of managers nominated for the Manager of the Month Award and the list sees the two previously mentioned managers and Manchester United manager, Solksjaer featuring with 1 other manager, David Moyes from Westham also featuring.